Things I'm Loving...
By PaisleyJade - Monday, April 09, 2012
I wholeheartedly believe that no matter what is happening in your life, there is always something that you can be thankful for... no matter how simple it is.
Things I'm Loving is a bit late, but better late than never! This weeks linky is going to be open for a couple of weeks, with the school holidays being here in New Zealand at the moment, so join in on the loving!
Here are a few of the things I am loving at the moment...
Loving our family traditions at Easter time (and yes, that is pink milk... long story, don't ask).
Love Easter items at school assembly (and super proud of my baby girl who closed the assembly in prayer, telling us all to 'nod' our heads, then prayed that nobody would get hurt, thanked Jesus for dying on the cross for us, and prayed that nobody would get scraped knees). Cute!
Loving this stop motion wedding video - original and really sweet!
Loving retro shirts being back in fashion...
Loving green melons!
Loving that the school holidays are here - two whole weeks off from school for the kids, and a break from work for me! Plenty of time to relax and to whip the kids and Symon at Ticket to Ride!
Finally, loving Unfolding Hope - an inspired idea that has turned into an exciting opportunity to join with others to help free people in slavery. How many people are in slavery right now? Approximately 27 million! Although it may seem overwhelming. you can help - and an amazing group of crafters have put their creations together so that every $10 you donate before April 30th will put your name into the draw to win a selection of wonderful prizes. Read more about it
here
and
here
, and click on the button below to donate.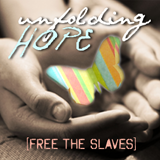 Here's how you can join in....
Link up below with your blog post telling us what thing/s you are loving, and don't forget to link back to
here
in your post (or use this button below) and visit the others who have joined in too. Linky open until Sunday!!